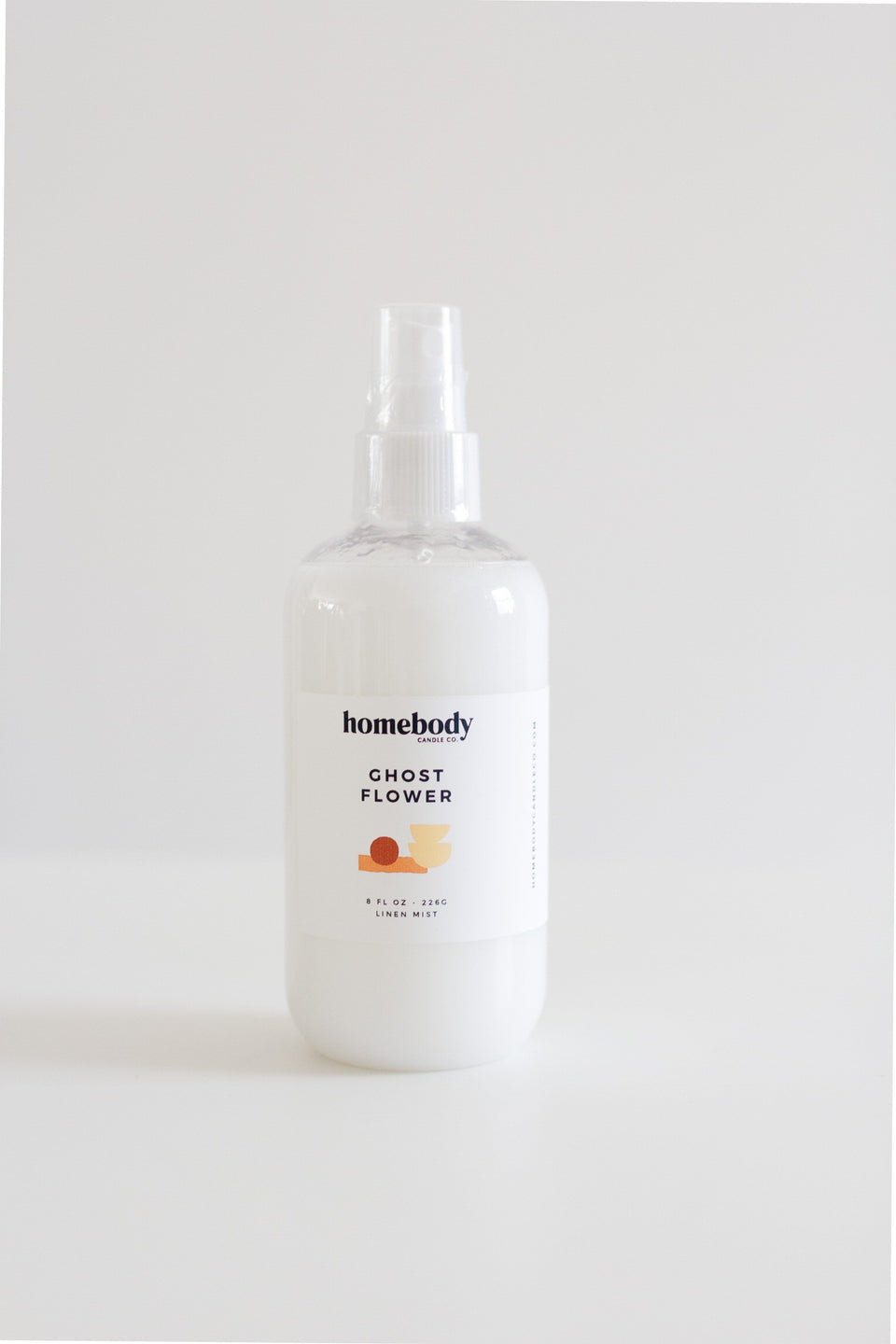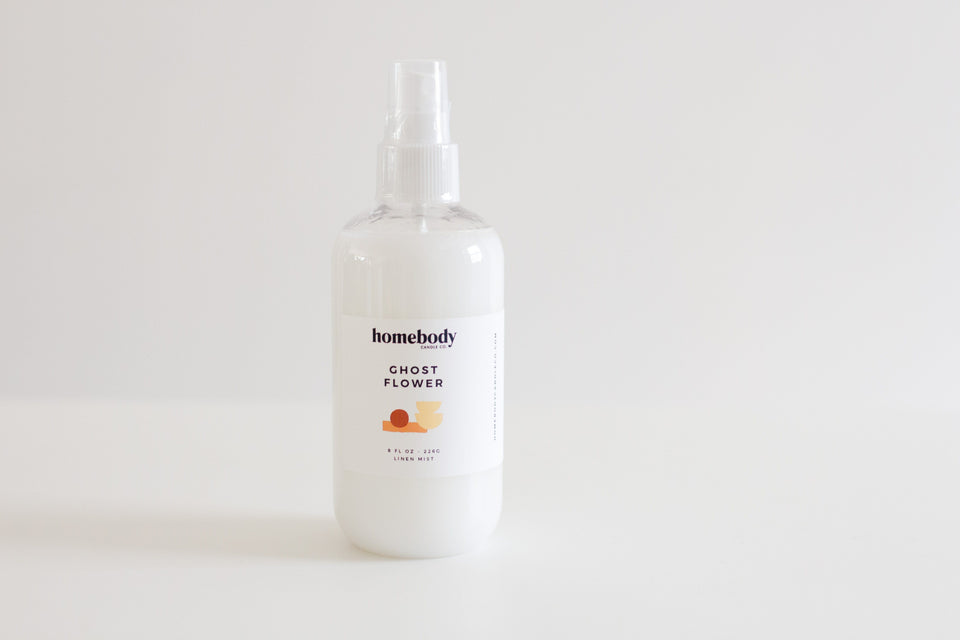 Ghost Flower Linen Mist
Room Spray/ Linen Mist.
Perfect for spritzing mist over bedding, linens, carpet and clothing or refreshing the scent of a room in your home!
Scent:  Ghost Flower is magical, mysterious + floral, like the sense of deja vu when visiting a city you've never been to before.
Notes of:  warm sand, rich amber, sweet cactus pear, ghost flower
8-ounce plastic bottle with white atomizer + cap
 phthalate/paraben-free fragrance oils
woman owned brand
eco-friendly
Ingredients:  water / natural odor counteractants / denatured alcohol / polysorbate 
made in USA
eco-friendly
woman owned brand
handmade
_____
"Homebody Candle Co (formerly Wood & Wax Co.) is an indie candle + wellness company using natural ingredients + premium fragrances to create products that embrace and inspire more self-care, more time for you. Elle has crafted a line of goods that encourage you to slow down a bit, give your home + body a little love, and enjoy this beautiful ride we call life! Elle, Homebody Candle Co.'s founder + maker, has been a homebody her entire life. Since 2015, all of our goods are crafted by hand, one by one, in our home studio". - Homebody Candle Co
Free same day delivery on orders
Free curbside pickup - ready in 20
* on orders made before 5pm
how it works
delivery is available to addresses within 10 miles of our shop.
delivery timing
we do our best to fulfill these the same day but based on order volume may occur the next day. we will send you a message if you submit an order before 5pm that we will not be able to deliver the same day.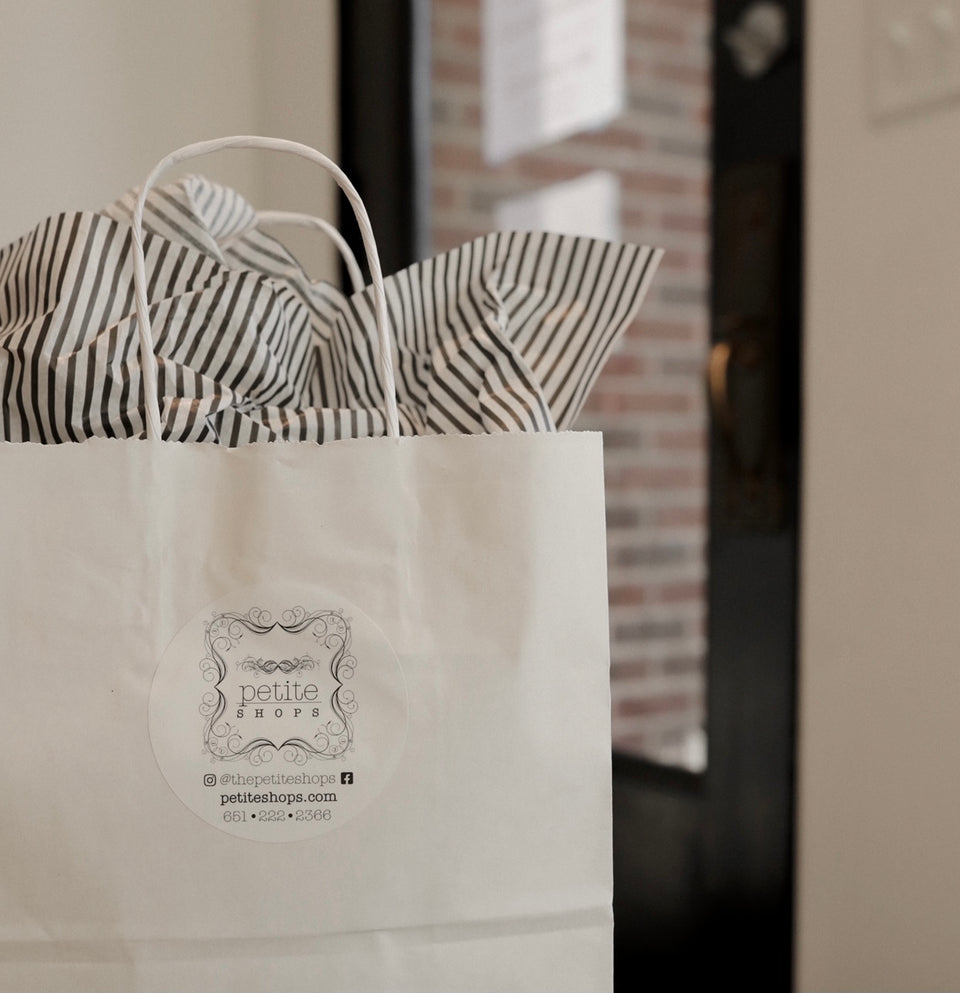 we offer a completely contact-less shopping experience.
we can generally have your order ready for pick up within 20 minutes.
how it works...
- choose "pick up" on the "information" tab of checkout
- we'll notify you when your order is ready
- give us a call at 651-222-2366 when you're outside and we'll run it out!